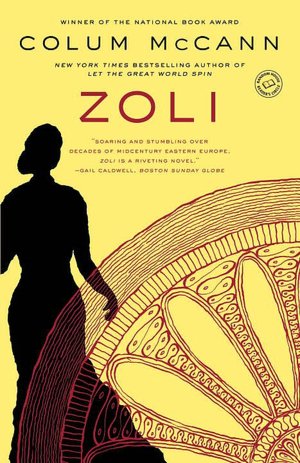 He drives along the small streambed, and the terrible shitscape looms up by increments- upturned buckets by the bend in the river, a broken babyl carriage in the weeds, a petrol drum leaking out a dried tongue of rust, the carcass of a fridge in the brambles.
I really enjoy Colum McCann's writing. He has a great writing style, and he always chooses such interesting subjects, like in Let the Great World Spin. Zoli focuses on the Roma (gypsies) and one Roma woman in particular, Zoli. Zoli is a poet, a young woman who fled with her grandfather in 1930s Czechoslovakia to live with a clan of harpists. She later becomes a poet (and a symbol of tolerance, too) in the Soviet Union. Her gift for poetry is admired by the Roma (Gypsy) people and admired by a young Englishmen, Stephen Swann. But her fame grows and the Communist start to use her for their own purposes. Zoli eventually must journey to the West. This book reminded me a little bit of Michael Ondaatje's books; it describes a certain culture in a detailed way while also being an interesting novel to read. I loved both Zoli and Let the Great World Spin, though Zoli is a more of a narrative book and Let the Great World Spin just sort of wanders.
Read Zoli:
if you like Colum McCann
if you are interested in the Roma people
if you are interested in the 1930s-1940s period in Europe
328 pages.
Outstanding Book That Will Stay On My Bookshelf For Rereading (jf I own it)!