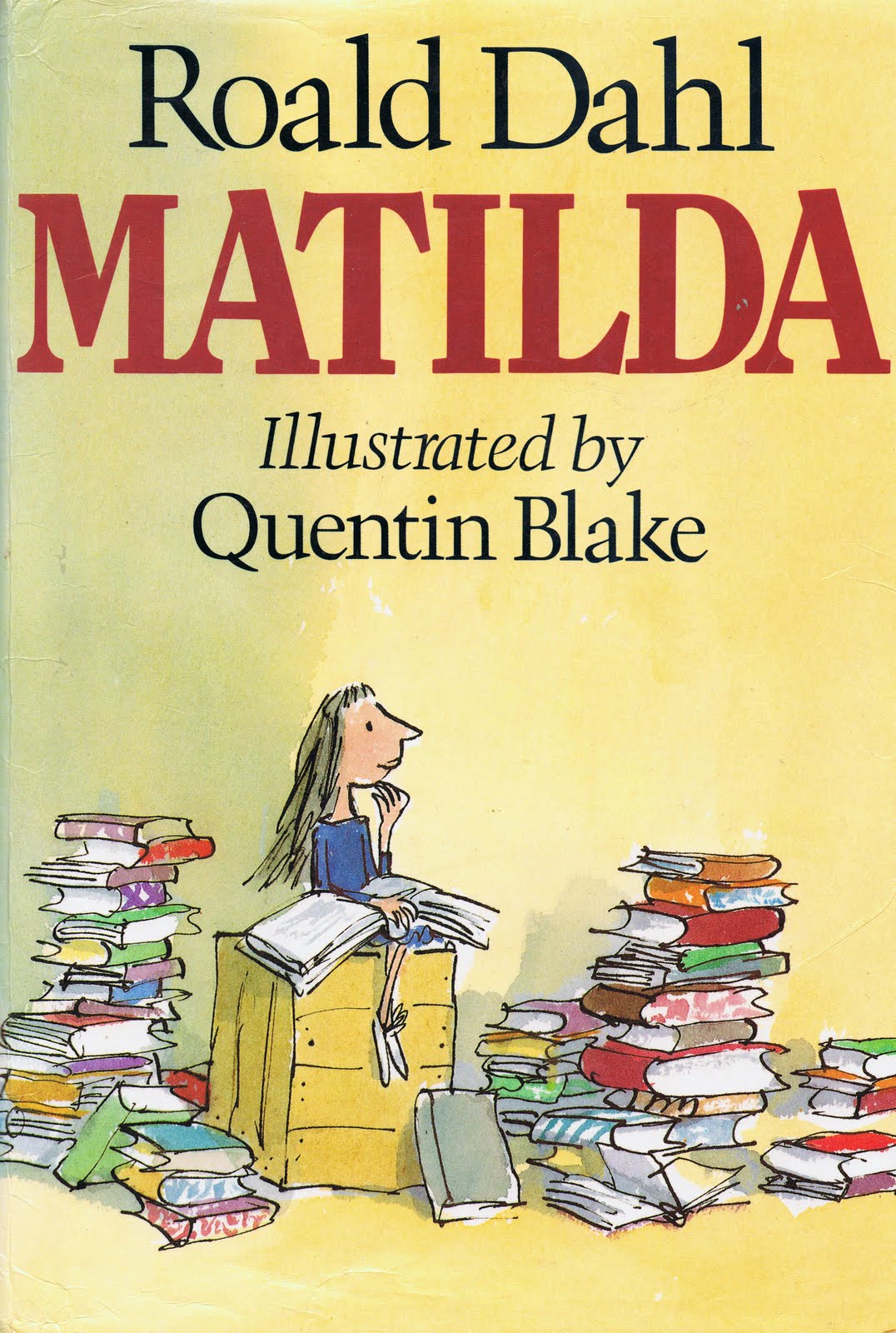 It's a funny thing about mothers and fathers. Even when their own child is the most disgusting little blister you could ever imagine, they still think that he or she is wonderful.
Matilda is four years old, and she's a genius. She learned to speak by the time she was one-and-a-half, and at the age of four, she starts going to the public library and quickly begins to read Dickens, Austen, Hemingway, Steinbeck, and more. Meanwhile, the reader is entertained with all the pranks she plays on her horrible parents, who can't seem to recognize that she's incredibly gifted. They just view her as a scab, to be flicked off eventually. At the age of five-and-a-half, Matilda starts school, and comes head-to-head (or rather, head-to-waist) with Miss Trunchbull, the school's tyrannical headmistress. She also meets Miss Honey, the kindergarten teacher who realizes how precocious she is.
Matilda
is definitely my favorite Roald Dahl novel. It
is
slightly morbid, but it's also funny and really entertaining. Plus, it's not necessarily a mindless read, depending on how you treat it. It's about one very smart little girl triumphing over the venomous Miss Trunchbull.
All of Roald Dahl's books have a touch (or more) of fantasy to them, and yet they're not actually fantasy. They're all set in the real world, but there's one magical thing about it. In
George's Marvelous Medicine
, it's the marvelous medicine. In
James and the Giant Peach
, it's the little crystals that cause the insects to grow big and talk. In
The Witches
, it's the witches. In
Matilda
, it's the power that Matilda suddenly discovers she has: that she can move things with her eyes.
Some of my favorite chapters are the ones in which Matilda gets back at her horrible father. At one point, she puts super glue in his favorite hat, so he's forced to wear all day (even at work) before getting half of his hair shorn off so that he can get the hat off. At another point, Matilda borrows her friend Fred's parrot and convinces the entire family that the house is haunted. And finally, she dyes her father's hair a ghastly color, in her final attempt to shame him.
But when she arrives at school, the stakes are higher. Miss Trunchbull is a monster towards the students and towards Miss Honey, and Matilda is determined to stop her with her new-found powers. Matilda wants to save the only kind adult in her life from poverty and bring her justice.
I also love the ending of
Matilda
. It feels so right, and so just too, that Matilda should end up with someone who can appreciate her. I have a feeling that Matilda has a very happy childhood after the book ends. I enjoyed rereading
Matilda
, and I was reminded again why it is my favorite novel of Roald Dahl's.
Read
Matilda
:
if you like Roald Dahl
if you like books about geniuses
240 pages.
Outstanding Book That Will Stay On My Bookshelf For Rereading (jf I own it)!